Andrei Voznesensky
Biography of Andrei Voznesensky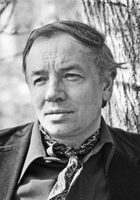 Andrei Andreyevich Voznesensky was a Soviet and Russian poet and writer who had been referred to by Robert Lowell as "one of the greatest living poets in any language." He was one of the "Children of the '60s," a new wave of iconic Russian intellectuals led by the Khrushchev Thaw.

Voznesensky was considered "one of the most daring writers of the Soviet era" but his style often led to regular criticism from his contemporaries and he was once threatened with expulsion by Nikita Khrushchev. He performed poetry readings in front of sold-out stadiums around the world, and was much admired for his skilled delivery. Some of his poetry was translated into English by W. H. Auden. Voznesenky's long-serving mentor and muse was Boris Pasternak, the Nobel Laureate and the author of Doctor Zhivago.

Before his death, he was both critically and popularly proclaimed "a living classic", and "an icon of Soviet intellectuals".
THE PARABOLIC BALLAD
My life, like a rocket, makes a parabola
flying in darkness, - no rainbow for traveler.

There once lived an artist, red-haired Gauguin,
he was a bohemian, a former tradesman.
To get to the Louvre
from the lanes of Montmartre
he circled around
as far as Sumatra!