ANDREW BLAKEMORE
ANDREW BLAKEMORE
(01/01/1966 / BIRMINGHAM)
Biography of ANDREW BLAKEMORE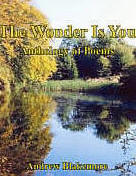 Andrew Blakemore BA (Hons) was born in 1966. The youngest of three sons, Andrew always had a passion for art and music. He began to write songs and verse. Andrew graduated in Music in the year 1999, having studied with the Open University. In the year 2001 he turned his hand to writing poetry. Some of which were published in his local church newsletter and were well received. This encouraged Andrew to keep writing. Andrew has now written well over 1000 poems. In 2007, he published 'The Wonder is You' a complete anthology of his poems. This book features all of his completed works up until the end of the year 2006. It contains 440 poems in total. In the year 2007 Andrew was made a featured poet with forwardpress with his poem 'I wrote her name upon the sand' chosen as their poem of the month for July. In 2009 Andrew published a collection of poems called 'Aurora' and it contains 423 new works. In 2012 he published further collections of poems called 'Reflections' 'Evening Skies' 'Riddian Bridge and 'Willow Strands' which are currently only available in Kindle format from Amazon. If you wish you may follow Andrew on twitter ablakemorepoet

ANDREW BLAKEMORE's Works:

'THE WONDER IS YOU' ISBN 978-1-4259-9304-7
'AURORA' ISBN 978-1-4389-2500-4
'REFLECTIONS' ISBN 978-1-291-87023-7
'EVENING SKIES' ISBN 978-1-326-87464-3
'RIDDIAN BRIDGE' ISBN 978-1-326-91199-7
'WILLOW STRANDS' ISBN 978-0-244-98170-5
What Love?
What love can wander through the clouds
And speak to me like sunset shine?
So deep the feeling in my heart
To know that you are truly mine.

What love can float on evening's air
So far and wide and without end?
My heart does feel such warmth inside
To know you are my dearest friend.