Andrew Vassell
Biography of Andrew Vassell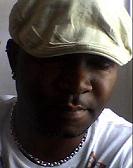 Born in Jamaica, I was lucky to have been bought up with both dedicated parents and 3 younger sisters. I spent my holidays with my Aunt alongside my 4 female cousins.Having been raised in a highly Religious home, In my late teens I decided to venture and went to Canada where I began to find and understand the meaning of relationships, love and the feelings were a part of this new life I had found.From my loving parents,3 sisters,4 female cousins and relationships, I found it easy to express heart. Having left Canada I made a life in the UK. I pursued a career in plumbing and heating and security management....was it my passion?
From an early age I found it easy to express Heart through Poems and song writing. My life's experience in words.....
I am following my passion....
I am following my Heart....

Andrew Vassell's Works:

Love though poems
-Love & affection, edition 1 & 2
-Sensual edition 1

These are presently in it's editing stages to be published
Sexy Sweat
Look as the juices flows from you,
Lets create a steamy room.
With the oozing of your love,
as your sweat pours from up above.
As my passion shine like the sun,
Just be marvelled in our sexy love.

Sexy sweat runs down her face,
down her back, straight pass you waist.