Angel Valdez
Angel Valdez
(August 20 1994)
Biography of Angel Valdez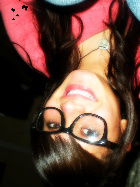 Angel Valdez is a Teenager,
Who doesn't understand why life is so cruel at times. Angel is a friendly and one the most nicest person I've met.

Her passion is Writting Her thought feelings,
on paper.
She had passed many people in her life,
That only walk in and out and step all over her,
But she still stands with an open heart,
And lets people come through half way.

As Angel is growing,
She lives life as its thrown to her,
Without any explanations of why it comes the way it does.
When she turned 14 she figures out
That she doesnt need an army to protect her
Because she doesnt let anyone get close enough,
To hurt her in the first place.
In Solitude
In solitude I remain
With Absolutely nothing to gain
Perhaps in time i will be strong
you see!

A solitary place
Is not where i belong
Read my Lips and Trace the lines on my Face
You see!