Angela Davis
Angela Davis
(1976 / USA)
Biography of Angela Davis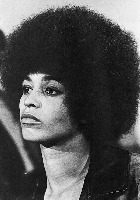 I am an aspiring poet and author. I have written several poems that I will gradually add here. Any feed back is welcome, including constructive criticism.
Many of my poems are of the abuse. I am placing them in hopes of educating people to it's emotional effects. Too often people think of only the physical harm it causes. But often the emotional suffering inflicted by such things is far worse than the physical, and lasts much longer.
This page is based on the copyrighted Wikipedia Angela Davis; it is used under the Creative Commons Attribution-ShareAlike 3.0 Unported License. You may redistribute it, verbatim or modified, providing that you comply with the terms of the CC-BY-SA.
Shattered
My dreams shattered in the tense stillness
as endless threats and blows clothe my form
My stomach flutters in familiar fear
and I am ashamed of my weakness
My hope lies shattered in madness
cloaking my tender heart in bruises
as I choke on the bitterness of your deceit
Now I lie still, sedated by my sorrow
My spirit shattered with loneliness