Anindya Mukhopadhyay
Anindya Mukhopadhyay
[soothsayer] (Kolkata, West Bengal)
Biography of Anindya Mukhopadhyay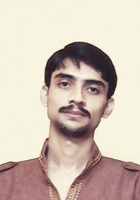 Born at Kolkata, Bengal. Mukhopadhyay is well known as a proficient stage actor and eloquent reciter of verses. He took up writing poetry much later and today write poems mostly in English besides Bengali.

Anindya completed his schooling at St. Mary's Orphanage & Day School and then graduated at Dum Dum Motijheel College in English Honours in the year 2012. He is currently pursuing a post-graduation degree in English from Rabindra Bharati University.

At the age of twelve, he was awarded Jugal Srimal scholarship of Tagore Foundation for his outstanding performance in Bengali Elocution competition. In school he distinguished himself by winning several prizes at recitation and creative writing.

Apart from a good thinker, Anindya has been blessed with an innate understanding of human psychology. His poems show him as a realist and a social critic of the time.

Mukhopadhyay tried his hand at play-writing too. He wrote three one act plays, the last of which was written in collaboration with his father.
Eye-Witness
By twenty a child matures just.
With great potential the virgin
makes his debut under the sun.

Here, slowly the loyal shade retracts.
Unaware we keep on amusing ourselves,
so usual with the new taste of freedom.

Nor everyone can adapt themselves proper