Anja Utler
Biography of Anja Utler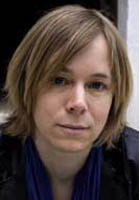 Anja Utler was born in Schwandorf in 1973. She studied eastern Slavonic languages and literature, Anglistics and elocution in Regensburg, Norwich and St Petersburg. She made her poetry debut in 1999 with the volume aufsagen. In 2003, Utler received a doctorate for her thesis on female Russian Modernist poets. In the same year, she was presented with the Leonce-und-Lena-Preis, the most important award for young poets in the German-speaking world. She now lives in Vienna.
For daphne: lamented
In the laurel, the metamorphosed Daphne, whose
very name signifies the laurel, grants herself to the
lover-turned poet.




Daphne, like other laurel species, is highly poisonous.
..