Ann Cotten
Biography of Ann Cotten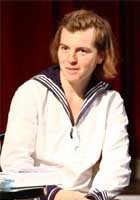 Ann Cotten is a poet, prose author, and translator. She was born in Iowa in 1982 and moved to Vienna in 1987. She studied Germanistics at the University of Vienna and has been living in Berlin since 2006.

Since 2000, her poetry, prose, essays and illustrations have appeared in anthologies and journals such as Die Rampe, Kolik, Zwischen den Zeilen, and Schreibheft. Her first collection of poetry, Fremdwörterbuchsonette (Suhrkamp), came out in 2007. She also published a book on concrete poetry entitled Nach der Welt: Die Listen der Konkreten Poesie und ihre Folgen (Klever Verlag) in 2008; a collection of poetry called Florida-Räume (Suhrkamp) in 2010; and her first full length book of work in English, I, Coleoptile, (Broken Dimanche Press) in collaboration with the artist Kerstin Cmelka came out in 2010.
Extension, possession
Your name is far and wide, and yet it was sometime,
I mean, not long ago you were a new lesion.
And now I hardly see a word before seeing
you in the place of everything I miss. Laughter

falls at your feet and leaves you standing stark naked.
What does this mean? You were a stranger five minutes
ago, and now you're wearing wreaths of cheap sonnets
upon your name. You throw them on the ground, leaving.