Anna Louisa Karsch
Biography of Anna Louisa Karsch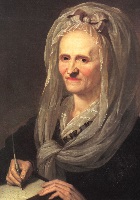 Anna Louisa Karsch was a German autodidact and poet from the Silesia region, known to her contemporaries as "Die Karschin".

She came from humble origins, the daughter of an innkeeper, and received no formal education. Her life was marked by poverty and two abusive marriages. Anna showed an early literary talent and learnt to read and write despite opposition by her immediate family. She began to memorise hymns and poems and began writing her own poems to celebrate peasant weddings, funerals and social events. This bought her to the attention of a local teacher who supplied her with works of poetry to study. Her poems appeared in local newspapers in Silesia and she developed a group of followers who were mostly Lutheran pastors and their wives. Her poetic talents grew in the cultural circles of the pastors' houses.

During the Seven Years' War and the Prussian campaign against Austria in Silesia, Karsch wrote many poems in praise of Frederick, the Prussian King. Her poem "Klagen einer Witwe" caught the attention of the Prussian General, Baron Von Kottowitz and in 1761 she was taken to the court of Frederick the Great by him and there caused a sensation by her ability to form a poem from any words or phrases given to her.

Her natural gifts as a poet stunned her contemporaries and she was given the nickname of "the German Sappho" by her friend and literary advisor Johann Wilhelm Ludwig Gleim in 1761. Frederick II agreed to give her a pension and build a house for her but her novelty at court waned and she descended into poverty. On the death of the king she approached his successor, Friedrich Wilhelm II in 1787, and he agreed to fill the promise. A house was built for Karsch, and she lived there, continuing to compose poetry, until her death in 1791. Her memorial is to be seen on the exterior wall of Berlin's Sophienkirche.

Gleim published two volumes of her poetry, in 1764 and 1772.

Karsch's correspondence is often seen as another of her literary accomplishments, particularly her letters to Gleim.

Her daughter Caroline Luise von Klencke became a respected poet and dramatist, and her granddaughter Helmina von Chézy (1783–1856), born Wilhelmine von Klencke in Berlin, became an author, whose play Rosamunde (1823) is remembered because Franz Schubert wrote instrumental music for it; she was also the librettist for Carl Maria von Weber's Euryanthe.
Anna Louisa Karsch Poems
The grapevine's luscious fruit has known
The praise of bards in ardent throng;
Why has the cherry not been shown
Loud voices raised in song?
My young days were oppressed with cares,
On summer mornings I sat there,
Sighing my poor stammered song.
Not for a young man was my melody,
I loathe with all my heart the first of men who slew
A human fellow-being when the earth was new.
My spirit shrinks from him who for primeval raids
Made sharp the world's first arrow, honed the first of blades.