Anne Barbara Ridler
Biography of Anne Barbara Ridler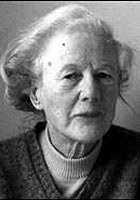 Anne Barbara Ridler OBE (née Bradby) was a British poet, and Faber and Faber editor, selecting the Faber A Little Book of Modern Verse with T. S. Eliot (1941). Her Collected Poems (Carcanet Press) were published in 1994. She turned to libretto work and verse plays; it was later in life that she earned official recognition, receiving an OBE in 2001.

Family

Ridler was the daughter of HC Bradby, a housemaster at Rugby School, where she was born. Her mother, Violet Bradby, born Milford, wrote popular children's stories and was the sister of Humphrey S. Milford, Publisher to the University of Oxford. One of her great-grandfathers was Charles Richard Sumner, Bishop of Winchester, a brother of John Bird Sumner, Archbishop of Canterbury. Her uncle, GF Bradby, was the author of The Lanchester Tradition (1919), while her aunt Barbara Bradby was the joint author of The Village Labourer (1911). Her cousins included the composer Robin Milford and the Rev. Dick Milford, vicar of the University Church of St Mary the Virgin, Oxford.

Life

Anne Bradby was educated at Downe House School and later published a biography of her headmistress, Olive Willis. After six months in Florence and Rome, she took a diploma in journalism at King's College London.

In 1938, she married Vivian Ridler, the future Printer to Oxford University (1958–78), but then the manager of the Bunhill Press, London, and they had two daughters and two sons.

She edited Charles Williams: The Image of the City and other Essays (1958) and Charles Williams: Selected Writings (1961). A Christian and friend and correspondent of C. S. Lewis, she was on the edge of the Inklings group. Also closely associated with TS Eliot, she wrote a short but powerful poem, "I Who am Here Dissembled", full of allusions to images in Eliot's own poems, for the anthology T. S. Eliot: A Symposium in honour of his sixtieth birthday.

For a short time in the 1940s, Ridler was also a successful Verse Dramatist with such plays as Cain (1943) and Shadow Factory: A Nativity Play (1945).

Anne Barbara Ridler's Works:

Shakespeare Criticism 1919-1935 (editor), Oxford University Press 1936 - out of print
Poems, Oxford University Press, 1939 - out of print
A Dream Observed and Other Poems, Poetry London 1941 - out of print
A Little Book of Modern Verse (editor), Faber and Faber 1941 - out of print
The Faber Book of Modern Verse (editor), Faber and Faber 1941-1951 - out of print
The Nine Bright Shiners, Faber and Faber 1943 - out of print
The Golden Bird and Other Poems, Faber and Faber 1951 - out of print
A Matter of Life and Death, Faber and Faber 1959 - out of print
Shakespeare Criticism 1935-1960 (editor), Oxford University Press 1963 - out of print
Thomas Traherne: Poems, Centuries and Three Thanksgivings (editor), Faber and Faber 1966 - out of print
Some Time After and Other Poems, Faber and Faber 1972 - out of print
Dies Natalis, Faber and Faber 1980 - out of print
New and Selected Poems, Faber and Faber 1988
Profitable Wonders: Aspects of Thomas Traherne (prose), Morehouse Pub Co 1989
A Measure of English Poetry, Perpetua Press 1991
Collected Poems, Carcanet 1997
This page is based on the copyrighted Wikipedia Anne Barbara Ridler; it is used under the Creative Commons Attribution-ShareAlike 3.0 Unported License. You may redistribute it, verbatim or modified, providing that you comply with the terms of the CC-BY-SA.
A Dream Observed
Out from his bed the breaking seas
By waking eyes unseen
Now fall, aquatic creatures whirl
And he whirls through the ambient green.

The sea lion and the scolopendra
Lolling in sleep he sees
Strange in their ways, and the swift changes
Their landscape makes, from shells to trees.