Anne Carson
Biography of Anne Carson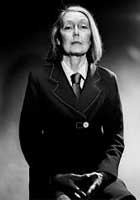 Anne Carson (born June 21, 1950) is a Canadian poet, essayist, translator and professor of Classics. Carson lived in Montreal for several years and taught at McGill University, the University of Michigan, and at Princeton University from 1980-1987. She was a 1998 Guggenheim Fellow. and in 2000 she was awarded a MacArthur Fellowship. She has also won a Lannan Literary Award.
In high school, a Latin instructor introduced Carson to the world and language of Ancient Greece and tutored her privately. Enrolling at St. Michael's College at the University of Toronto, she left twice—at the end of her first and second years. Carson, disconcerted by curricular constraints (particularly by a required course on Milton), retired to the world of graphic arts for a short time. She did eventually return to the University of Toronto where she completed her B.A. in 1974, her M.A. in 1975 and her Ph.D. in 1981. She also spent a year studying Greek metrics and Greek textual criticism at the University of St Andrews.
A professor of the classics, with background in classical languages, comparative literature, anthropology, history, and commercial art, Carson blends ideas and themes from many fields in her writing. She frequently references, modernizes, and translates Ancient Greek literature. She has published eighteen books as of 2013, all of which blend the forms of poetry, essay, prose, criticism, translation, dramatic dialogue, fiction, and non-fiction.
Carson was an Anna-Maria Kellen Fellow at the American Academy in Berlin, Germany, for Fall 2007. The Classic Stage Company, a New York–based theatre company, produced three of Carson's translations: Aeschylus' Agamemnon; Sophocles' Electra; and Euripides' Orestes (as An Oresteia), in repertory, in the 2008/2009 season. She is Distinguished Poet-in-Residence at New York University. and was a judge for the 2010 Griffin Poetry Prize.
She also participated in the Bush Theatre's project Sixty Six Books (October 2011), for which she had written a piece entitled Jude: The Goat at Midnight based upon the Epistle of Jude from the King James Bible. Once every year, Carson and her husband, Robert Currie, teach a class called Egocircus about the art of collaboration at New York University. On November 16, 2012, Carson received an honorary degree from the University of Toronto. Carson delivered a series of "short talks", or short-format poems on various subjects, as the address to the Ph.D. graduating class of 2012.
Anne Carson's 2013 book Red Doc> was reviewed by Kathryn Schulz as, "a sequel of sorts to Autobiography of Red, which was a sequel of sorts to a poem by Stesichoros... In Greek myth, a monster named Geryon lived on a red island and tended a herd of coveted red cattle; slaying the monster and stealing the cattle was the tenth of the twelve labors of Herakles... The tale was set down by Hesiod and others almost 3,000 years ago... What Red Doc> is greater than is the sum of its parts. This is Carson's obsession, and her gift: to make meaning from the fragments we get, which are also all we get -- of time, of the past, of each other. It doesn't last, of course; the arrow of gravity, like the arrow of time, points only in one direction. Still, for a moment, she gets it all to hang together up there, the joy made keener by the coming fall. Sad but great: In the end it seemed to me that Carson had found the proper name for everything -- her character, this book, this life."
from Pinplay
Chorus:
Choral interlude followed by Act IV.
How many pins can dance on the head of a god?
How many kings can you pin to the dance in my head?
How many dances left stains on the woman he was?
How many stains kept him quiet, O Agave!

[enter Agave exultant and covered in blood, carrying the head of Pentheus impaled on a lacuna]