Anne Morrow Lindbergh
Biography of Anne Morrow Lindbergh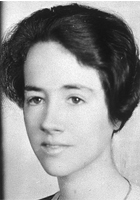 Anne Morrow Lindbergh (née Anne Spencer Morrow; June 22, 1906 – February 7, 2001) was an American author, aviator, and the spouse of fellow aviator Charles Lindbergh. She was an acclaimed author whose books and articles spanned the genres of poetry to non-fiction, touching upon topics as diverse as youth and age; love and marriage; peace, solitude and contentment, as well as the role of women in the 20th century. Lindbergh's Gift from the Sea stands as a seminal work in feminist literature.
Interior Tree
Burning tree upon the hill
and burning tree within my heart,
what kinship stands between the two,
what cord I cannot tear apart?

The passionate gust that sets one free,
- a flock of leaves in sudden flight -
shatters the bright interior tree
into a shower of splintered light.