Anthony Ominiabohs
Anthony Ominiabohs
(July 25 1987 / Nigeria)
Biography of Anthony Ominiabohs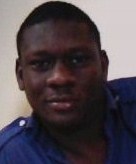 I was born into a family of eight; five girls and three boys, I being the fifth child and first son to my parents. Presently, am a graduate of Computer science from the University of Benin, Edo state, Nigeria, Africa. I love reading and also writing. I also love keeping dogs, cos i have a large dog pound/kernel. Am single and still very ready to mingle.
Hold My Hand
Running through my eyes
Memories of your smiles
Swimming past times' shores
Unveiling anew my love
As you float out of my reach.
But just for a moment longer
In your parting embrace,
Hold my hand.