Arijit Kar
Arijit Kar
(03/01/1988 / Santipur Nadia West Bengal India)
Biography of Arijit Kar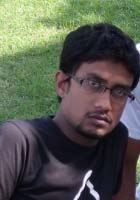 Arijit Kar born on 3rd January 1988, in Santipur, Nadia at West Bengal in India. He has a passion for writing poetry/poems and written so many for last 2 years but no works published yet due to the lack of English publisher in his own state and the monetary problem is the main. He has done his master degree in English Literature from IGNOU. He completed writing one novel also in Bengali language. His aim is to be a writer in future but no publisher gives a single chance to check his writings out.

Arijit Kar's Works:

Published.." My Better Half"
In Empty Mind
In empty mind, thou gifted love
First love, first living hope
Splited thou, thread of our mingling
Have I been forgotten to you, in your life
Like 'for`get-me-not', can you?