Arthur Bayldon
Biography of Arthur Bayldon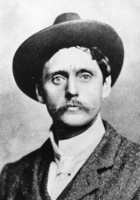 Arthur Albert Dawson Bayldon, poet, was born on 20 March 1865 at Leeds, Yorkshire, England, son of Charles Henry Bayldon, solicitor, and Matilda Maria, née Dawson. As a student at Leeds Grammar School, he won prizes for swimming, and developed an appreciation of poetry through the scholar J. R. Tutin. His parents having died while he was young, he travelled widely in Europe and, he claimed, in the United States of America and India. In his early twenties he published two volumes of verse which, in their conventional evocation of delight and despair, display a bookish regard for nineteenth-century English poets and an attraction towards Victorian Romantic diction.

Bayldon arrived in Brisbane in 1889, practised freelance journalism, and lost his possessions and money in a flood. In the 1890s he became a prominent Bulletin poet and 'Red Page' critic who embodied many of that paper's characteristics and myths. Independent, egalitarian, egotistic, ostentatious and convivial, he confessed, however, to 'desolate brooding', restlessness and a stoicism relieved by religious faith. His occupations between 1890 and 1930 included those of swagman, rouseabout, phrenologist, full-time motto-writer, lighter-owner, salesman of his own books, insurance agent, picture dealer, clothier's agent, teacher of English composition, literary lecturer, editor of and canvasser for a comic monthly, tea-merchant, private secretary, and advertisement-writer. In cities and towns in Queensland and New South Wales, he recited his verse and, like the poet R. H. Horne, performed 'fancy swimming strokes' for a fee.

Bayldon's poetry was dominated in these years by melancholy realism in depicting the swagman's life, drought, sordid aspects of cities, and the bush as 'hell'. But he wrote in a happier and occasionally more 'majestic' tone on themes of liberty, egalitarianism, his personal philosophy, and his experience of a more Arcadian Australian landscape. His frequently derivative and tritely aphoristic style is interesting as the product of an educated Englishman's adaptation to a nationalistic Australian environment. Bayldon was modest about his poetry, but sensitive about the 'little encouragement … shown to an Author in Australia'. Less distinguished than his contemporaries A. G. Stephens and Christopher Brennan, like them he extended the scope of the Bulletin's literary criticism beyond national subject-matter; he wrote brightly and frankly on Byron, Tennyson, Longfellow and Browning as well as on local authors.

Bayldon was in Brisbane in 1897, and published his Poems there that year; in 1900 he moved to Orange, New South Wales, where he married Maude Bernard Leighton on 16 June 1902; they had no children. A collection of short stories, The Tragedy Behind the Curtain, was published in Sydney in 1910, but a novel and various other works remained unpublished. His verse included Collected Poems (Sydney, 1932) and four other volumes.

During and after World War I Bayldon turned more to patriotic, democratic and optimistic themes. He had settled in Sydney in the 1920s or earlier. In 1930 he suffered 'another breakdown', which he attributed to overwork as a canvasser; though he kept his job he was granted a Commonwealth literary pension of £52 a year. When he died at the Home of the Little Sisters of the Poor, Randwick, on 26 September 1958, he had outlived his wife and all the Bulletin poets of the 1890s except Will Ogilvie and his friend Dame Mary Gilmore. He was buried in the Roman Catholic section of Botany cemetery.

Arthur Bayldon's Works:

Poems (1897)
The Eagles (1921)
Collected Poems (1932)
Apollo in Australia; and Bush verses (1944)
This page is based on the copyrighted Wikipedia Arthur Bayldon; it is used under the Creative Commons Attribution-ShareAlike 3.0 Unported License. You may redistribute it, verbatim or modified, providing that you comply with the terms of the CC-BY-SA.
A Woman's Mood
I think to-night I could bear it all,
Even the arrow that cleft the core, --
Could I wait again for your swift footfall,
And your sunny face coming in at the door.
With the old frank look and the gay young smile,
And the ring of the words you used to say;
I could almost deem the pain worth while,
To greet you again in the olden way!