Arthur Christopher Benson
Biography of Arthur Christopher Benson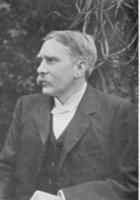 CHENEY, John Vance was born in Groveland, New York, December 29, 1848; [died, 1922]. Educated at Temple Hill Academy in Geneseo, New York. After a short period of teaching and of practicing law, he became the librarian of the Free Public Library of San Francisco and held this position from 1887 to 1894 when he accepted a similar one at the Newberry Library of Chicago, where he remained until 1899.
The Phoenix
BY feathers green, across Casbeen
The pilgrims track the Phoenix flown,
By gems he strew'd in waste and wood,
And jewell'd plumes at random thrown.

Till wandering far, by moon and star,
They stand beside the fruitful pyre,
Where breaking bright with sanguine light
The impulsive bird forgets his sire.