Arthur Clement Hilton
Biography of Arthur Clement Hilton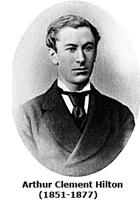 Arthur Clement Hilton was born in 1851 and educated at Marlborough College and St. John's College, Cambridge, where he published in 1872 The Light Green, a collection of verse parodies.

After graduating from Wells Theological College in January 1873, Hilton was ordained deacon on March 1, 1874, became curate of St. Clement and St. Mary, Sandwich, and was ordained priest in 1875.

He took his M.A. at Cambridge in 1876 and died suddenly and unexpectedly April 3, 1877.It was not until 1902 that his collected works were published.

Arthur Clement Hilton's Works:

The Light Green (1872)
Collected Works (1902)
This page is based on the copyrighted Wikipedia Arthur Clement Hilton; it is used under the Creative Commons Attribution-ShareAlike 3.0 Unported License. You may redistribute it, verbatim or modified, providing that you comply with the terms of the CC-BY-SA.
Octopus
By Algernon Charles Sin-Burn
Strange beauty, eight-limbed and eight-handed,
Whence camest to dazzle our eyes?
With thy bosom bespangled and banded
With the hues of the seas and the skies;
Is thy home European or Asian,
O mystical monster marine?
Part molluscous and partly crustacean,
Betwixt and between.