Arthur Guiterman
Biography of Arthur Guiterman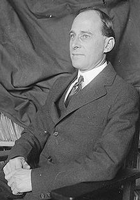 Arthur Guiterman (pronounced /ˈɡɪtərmən/; November 20, 1871 - January 11, 1943) was an American writer best known for his humorous poems.

Guiterman was born of American parents in Vienna, graduated from the College of the City of New York in 1891, and was married in 1909 to Vida Lindo. He was an editor of the Woman's Home Companion and the Literary Digest. In 1910, he cofounded the Poetry Society of America, and later served as its president in 1925-26.
In The Hospital
Because on the branch that is tapping my pane
A sun-wakened leaf-bud, uncurled,
Is bursting its rusty brown sheathing in twain,
I know there is Spring in the world.

Because through the sky-patch whose azure and white
My window frames all the day long,
A yellow-bird dips for an instant of flight,
I know there is Song.