Arthur Henry Reginald
Biography of Arthur Henry Reginald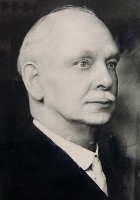 Arthur Henry Reginald Buller (August 19, 1874 – July 3, 1944) was a British-Canadian mycologist. He is mainly known as a researcher of fungi and wheat rust.

Born in Moseley, Birmingham, England, he received a Bachelor of Science from Queen's College, Taunton in 1896. He then completed this with a Doctor of Philosophy in botany from the University of Leipzig in 1899. He also trained at the Marine Biological Station in Naples. From 1901 to 1904, he was a Lecturer in Botany at University of Birmingham. He came to Canada in 1904 and founded the Botanty Department at the University of Manitoba and was the first Professor of Botany and Geology at the University of Manitoba, and served as Head of the Botany Department until his retirement in 1936.
Ten Little Limericks
There was a young lady named Bright,
Whose speed was much faster than light;
She set out one day,
In a relative way
And returned on the previous night.