Ashwini Dey
Ashwini Dey
(16/10/1993 / Renukoot, Sonebhadra(U.P.) , India)
Biography of Ashwini Dey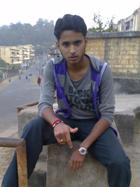 I am Ashwini Dey, a student from a small town of India, presently doing BA in 3D Animation And VFX. There's nothing great about me, I am just a normal guy like most of you. The only thing that make me different is that I love to try out everything possible, I want toexperience everything..... everything possible in this small life.
I am having lots of interests. The things I love (Rather things I do) are:
1: I write- I love to write poems, stories, plays.... and many more.
2: I read- I like reading books, blogs and many more readable things whenever I am free.
3: I draw- I love to draw and paint whenever possible, and I am quite good at it.
4: I sing- I love listening to music, and singing songs.
5: I play- I love to play games, anygame outdoor or indoor. I love computer games the most.
6: Most important thing is I love to make new friends, if you wantto be my friend you are welcome.....
Silence
A silence, like death prevails in me.
The hell approaches to swallow down me,
Waiting for death I sit in silence.
Silence, silence everywhere silence.
Silence today, is DARK & SOUNDLESS,
Once it was LOUD & ALARMING.
Everything's dark, nothing I can see,
Today the silence silences me.
The world is quiet, no one speaks.