August Stramm
Biography of August Stramm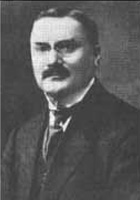 August Stramm was a German poet and playwright who is considered one of the first of the expressionists. He also served in the German Army and was killed in action during World War I.

He worked in the German Post Office Ministry as a young man and served his mandatory year of duty in the German Army in 1896–1897. After this, he travelled to the United States several times over the next few years before settling in Berlin. In 1912-1913, he wrote two plays, Sancta Susanna (which was subsequently used as a libretto for an early opera by Hindemith) and Die Haidebraut, the first of many to appear before the war.

Stramm was also a reservist in the German Army and had achieved the rank of Captain, the highest available to civilians. He was called to active duty when war broke out in August 1914. In January 1915, Stramm was awarded the Iron Cross (Second Class) for his service in France. Later that year, he was sent to the Eastern Front, where he served as Company Leader, later being promoted to Battalion Commander. He was killed in hand-to-hand combat in Horodec near Kobryn (today Belarus).

Major Works

Although Stramm's literary career began as a playwright, he is perhaps best known in the twenty-first century for his poems, which were published in two collections: Du: Liebesgedichte (Thou: Love Poems, 1915), and Tropfblut (Drip-Blood, 1919). Although he was involved in the early stages of planning for the publication of his first volume of poems, he died before the book was in print. Characterized by his streamlined, minimalist approach to language, these poems are expressions of his exploration of love's many faces, and yet, as critic Karin von Abrams has pointed out, only the subtitle of the volume strongly indicates that love is to be considered the "governing theme" of the collection. The poems contained in Drip-Blood exemplify Stramm's evolving style of focusing on individual words and personifying abstract concepts through the manipulation of syntax and the use of such structural elements as one-word lines. These later works exerted a "frequently staccato" effect, writes critic Jeremy Adler.

Stramm saw a number of his poems published in the literary magazine Der Sturm, but he did not live to see either the publication of his volumes of poetry or the performance of any of his plays, several of which, including Die Haidebraut (The Bride of the Moor, 1914) and Sancta Susanna, (1914) were in print before his death. Der Sturm editor Walden oversaw the posthumous publication of the poems and several more plays.

Critical Reception

Stramm received very little critical attention during his lifetime. He was known to a relatively small circle of literary peers and, until after his death, his works appeared only in the literary journal Der Sturm, which was itself a vehicle for experimental works not yet received into the cultural mainstream. During the eighteen months he was associated with Der Sturm, however, Stramm's works appeared in the journal more often than those of any other writer in the magazine's history. In the months following his death, as Walden published and promoted Stramm's works, his contemporaries began to consider Stramm a poet and dramatist whose unique voice, though silenced through the violence of war, would become influential in the emerging expressionist movement in Germany. In his very precise use of language, nothing was written that did not need to be written, and when existing words were not accurate enough for Stramm, he invented new ones. Following his death, his unconventional approach to creative expression was recognized by an English-speaking literary peer, Edward J. O'Brien, who wrote in the American journal Poetry: A Magazine of Verse, "Stramm gave poetry a new method. … His gift to imaginative literature was just beginning to be perceived." Although his literary output was limited, later critics concur that Stramm—a postal service bureaucrat who was married with children, who pursued gentle hobbies as an amateur painter and cellist, and who was dismayed and yet fascinated by the horrors of war—forged a significant, though unlikely, role as a literary figure whose works influenced the Dada movement in western Europe and anticipated the techniques of modern poetry.

August Stramm's Works:

Sancta Susanna (1912)
Die Haidebraut (1913)
Dripping Blood (1915)
This page is based on the copyrighted Wikipedia August Stramm; it is used under the Creative Commons Attribution-ShareAlike 3.0 Unported License. You may redistribute it, verbatim or modified, providing that you comply with the terms of the CC-BY-SA.
Battlefield
Yielding clod lulls iron off to sleep
bloods clot the patches where they oozed
rusts crumble
fleshes slime
sucking lusts around decay.
Murder on murder blinks
in childish eyes.