Augusta Davies Webster
Biography of Augusta Davies Webster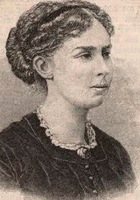 Born in 1837, Webster was a prolific writer in every genre, a self-educated classical scholar, a professional poetry reviewer, an activist, and an educator. She began her literary career as a young girl and had published two volumes of poetry, two well-received translations of Aeschylus and Euripides, and a three-volume novel by the time she became a very active member of the London Suffrage Society in the 1860s. During the 1870s Webster continued to support suffrage for women and the women's movement in general, as well as liberalism and individualism, in a series of essays that she wrote for the Examiner and later published as A Housewife's Opinions. Beginning in 1879, she served two terms on the London School Board, with the second term concurrent with her position as one of the main poetry reviewers for the Athenaeum. She consistently published poetry and drama in these years, as well as a children's novella. Webster was married and had one daughter. In the 1880s she hosted literary salons and was one of the most respected literary, political, and social figures in London until she died of cancer in 1894. Webster disappeared from view immediately after her death, and critics are only now beginning the process of exploring the rich diversity of her work. The recent increased interest in Julia Augusta Webster bodes well for a more complete understanding of the significance of Webster's work as a writer and professional critic, as well as her effectiveness as an activist and political figure. However, as this bibliographic project demonstrates, relatively few scholars have focused on the work of this woman of significance in the last half of the 19th century.

Biography

The only biographically focused work to date is Patricia Rigg's book. Rigg 2009 makes use of archived letters and family records in the United Kingdom and the United States to construct as comprehensive an account of Webster's early family connections, marriage, motherhood, activism, and professional reviewing work as archival materials allow.

Augusta Davies Webster's Works:

Poetry

Blanche Lisle: And Other Poems (1860)
Lilian Gray (1864)
Dramatic Studies (1866)
A Woman Sold and Other Poems (1867)
Portraits (1870)
A Book of Rhyme (1881)
Mother and Daughter (1895)

Translations into verse

Prometheus Bound (1866)
Medea (1868)
Yu-Pe-Ya's Lute. A Chinese Tale in English Verse (1874)

Plays

The Auspicious Day (1874)
Disguises (1879)
In a Day (1882)
The Sentence (1887)

Novel

Lesley's Guardians (1864)

Essays

A Housewife's Opinions (1878)
This page is based on the copyrighted Wikipedia Augusta Davies Webster; it is used under the Creative Commons Attribution-ShareAlike 3.0 Unported License. You may redistribute it, verbatim or modified, providing that you comply with the terms of the CC-BY-SA.
The Pine
The elm lets fall its leaves before the frost,
The very oak grows shivering and sere,
The trees are barren when the summer's lost:
But one tree keeps its goodness all the year.

Green pine, unchanging as the days go by,
Thou art thyself beneath whatever sky:
My shelter from all winds, my own strong pine,
'Tis spring, 'tis summer, still, while thou art mine.