Aziz Ahmad 'Aziz Moradabadi'
Aziz Ahmad 'Aziz Moradabadi'
(03/03/1934 / Near Masjid Amin Saheb, Lal Bagh, Moradabad, Uttar Pradesh, India)
Biography of Aziz Ahmad 'Aziz Moradabadi'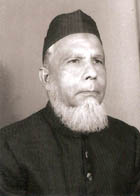 Name: Aziz Ahmad
Pen name: 'Aziz Moradabadi'
Father's name: Qazi Jamil Ahmad Sahib, (Late)
Date of Birth: 3rd March,1934
Place of Birth: Moradabad (U.P) , India:
Qualification: M. A (English) B.Ed
Profession: Service (Retired Lecturer, M.Q. I. College, Seohara, Bijnor)
Years of Haj Pilgrimage: 1975 and 2000
Name of Spiritual Teacher: (Late) Maulana Asrarul Haq Khan Sahib
Guide of Urdu Poetry: Hazrat Samar Moradabadi
Names of Ancestral famous
Literary Personages:
1) Hazrat Ali Sikandar (Jigar Moradabadi (Late)
2) Qazi Abdul Gaffar Sahib (Late)
Source of Spiritual gains
Blessings of Mother, Jigar Moradabadi and Spiritual Teacher
Hobbies Essay Writing and Composing Verses
Residence: Mohalla Lala Bagh, near Masjid Amin Sahib, Moradabad.
Current Address: C-21, K.K.Residency, Rabia Manzil Compound, Badarbagh, Civil Lines, Aligarh, U.P.India
Mob. No- +919837817101.
Ph. No- +919259904127

Aziz Ahmad 'Aziz Moradabadi''s Works:

Books Published:
1) Elegy on Jigar Moradabadi,1982
2) Life in Verses,1985
3) Ilahiyat-o-Wahiyat 1995
4) Mirat – e - Jigar 2001
5) Karvan – e – Ghazal,2003
6) Kehkashan – e – Ghazal,2006
7) Bostan – e – Ghazal,2011
Fame
I sing a song in your honour O Fame!
It may be accepted though it be lame.
Very many are the charms of your name;
The great and small alike want you to tame.

You are in some places well-known as Fame;
While in others, you are nicknamed Defame.
This is only a difference of name,
Howsoever you are the one and the same.