Barbara Guest
Barbara Guest
(1920 - 2006 / Wilmington, North Carolina, United States)
Biography of Barbara Guest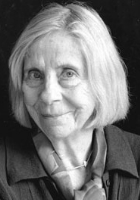 Barbara Guest née Barbara Ann Pinson (September 6, 1920 – February 15, 2006) was an American poet and prose stylist. Guest first gained recognition as a member of the first generation New York School of poetry. Guest wrote more than 15 books of poetry spanning sixty years of writing. In 1999, she was awarded the Frost Medal for Lifetime Achievement by the Poetry Society of America. Guest also wrote art criticism, essays, and plays. Her collages appeared on the covers of several of her books of poetry. She was also well known for her biography of the poet H.D., Herself Defined: The Poet H.D. and Her World (1984).
Born in Wilmington, North Carolina and raised in California, Guest attended UCLA, and then earned a B.A. in General Curriculum-Humanities in 1943 at UC Berkeley. She worked as an editorial associate at ARTnews magazine from 1951-1959.
Barbara Guest wrote more than 15 books of poetry spanning sixty years of writing. "Her poems begin in the midst of action," wrote Peter Gizzi in his introduction to a collection of her work, "but their angle of perception is oblique." Her poems are known for their abstract quality, vivid language, and intellectualism. She believed that the subject of the poem finds itself through the writing of the poem and through the poet's imagination. "Disturbing the conventional relations of subjects and objects, of reality and imagination, is one of Guest's signature gestures," noted Gizzi.
The Past
The form of the poem subsided, it enters another poem.
A witness was found for the markings inscribed upside-down.
It might have been a celebration, so strong the presence
of the poem. The sky sinks slowly inside the past.