Beatrice Redpath
Biography of Beatrice Redpath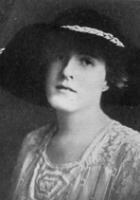 Beatrice Redpath (died 1937) was a Canadian poet.

Life

She was born Beatrice Peterson in Montreal, Quebec. Her father, Alexander Peterson, was Chief Engineer of the Canadian Pacific Railway. She was educated in private schools in Montreal. At 17 she moved to Goderich, Ontario, where she lived for five years. She married William Redpath of Montreal in 1910; the couple had one son.

Writing

T.P.'s Weekly: "Beatrice Redpath in Drawn Shutters can be commonplace in the noble contemplation of essential life: a virtue in poetry. She comes down at times to the minor level of 'The Dancer'. But 'To One Lying Dead' is a poem of true loveliness, elegiac without dullness, eloquent without gush.... Beatrice Redpath feels the passions of rebellion and indignation. But to her they imply more than mere dissatisfaction and chafing. Indeed, one might make the quality of those passions the supreme test of character, certainly of poetic power.... There is evidence in the volume of life lived at first hand, of the discipline of actuality that forces people either to a calm, strong normality, or to hectic agony, and disquietness of spirit. And it is because the poet soul rises to the reality of experience that her poems will not depress. Of her brief songs it may be said that they come like sunshine amid clouds, themselves noble and impressive."

Beatrice Redpath's Works:

Drawn Shutters. London, UK; New York, NY: John Lane, 1914. Toronto: S.B. Gundy, 1914.
White Lilac. London, UK; New York, NY: John Lane, 1922. Toronto: S.B. Gundy, 1922.
This page is based on the copyrighted Wikipedia Beatrice Redpath; it is used under the Creative Commons Attribution-ShareAlike 3.0 Unported License. You may redistribute it, verbatim or modified, providing that you comply with the terms of the CC-BY-SA.
My Thoughts
My thoughts are as a flock of sheep
Upon a windy wold,
At eventide they homeward creep
To shelter from the cold;
And when I lay me down to sleep
They rest within the fold.