Beatrix Potter
Biography of Beatrix Potter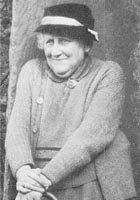 Helen Beatrix Potter was born in 1866, in South Kensington, London. Her father was a wealthy investor. Potter lived a secure childhood at home, with her youger brother Bertram. She was taught by governesses, and learned reading by Sir Walter Scott's novels. At age fifteen, she began a diary, and invented a code to write in it. This she continued till the age of thirty. It was decoded by the engineer Leslie Linde, and after seven years of deciphering, it was published.

In the 1890's, "The Tale of Peter Rabbit," and some other short animal stories, originally written to amuse the sickly child of one of her governesses, after first being rejected, were published. They brought her immediate recognition. Up till 1913, she continued to write her animal stories and illustrate them with water-colour. Her books portray animals wearing clothing, but otherwise, she did treated her animal or human characters realistically, without sentiment, imaginatively, but clearly. Among her stories their are a few poems, as well. Their simple humor had appealed to children and adults alike since their first publication.

Eventually her writing career began to pine, and she left writing almost entirely to marry Willam Heelis, a solicitor. Her eyesight began to fail as well. But she wrote one last book, "The Tale of Little Pig Robinson."

Though Potter wrote once in an article, "Thank goodness, my education was neglected," she had great interest in science and nature (as is shown in her writings) and developed a theory on the germination of fungus spores, which were burned during the bombing of London in World War II.

She died in Sawrey, Lancashire, in December 22 of 1943. Her home at the Lake District farm is open to the public, and she left several thousands of acres to the National Trust. Anually, her writings are broadcasted around the world.

Beatrix Potter's Works:

The 23 Tales

The Tale of Peter Rabbit (1902)

The Tale of Squirrel Nutkin (1903)

The Tailor of Gloucester (1903)

The Tale of Benjamin Bunny (1904)

The Tale of Two Bad Mice (1904)

The Tale of Mrs. Tiggy-Winkle (1905)

The Tale of the Pie and the Patty-Pan (1905)

The Tale of Mr. Jeremy Fisher (1906)

The Story of A Fierce Bad Rabbit (1906)

The Story of Miss Moppet (1906)

The Tale of Tom Kitten (1907)

The Tale of Jemima Puddle-Duck (1908)

The Tale of Samuel Whiskers or, The Roly-Poly Pudding (1908)

The Tale of the Flopsy Bunnies (1909)

The Tale of Ginger and Pickles (1909)

The Tale of Mrs. Tittlemouse (1910)

The Tale of Timmy Tiptoes (1911)

The Tale of Mr. Tod (1912)

The Tale of Pigling Bland (1913)

Appley Dapply's Nursery Rhymes (1917)

The Tale of Johnny Town-Mouse (1918)

Cecily Parsley's Nursery Rhymes (1922)

The Tale of Little Pig Robinson (1930)

Other books

Peter Rabbit's Painting Book (1911)

Tom Kitten's Painting Book (1917)

Jemima Puddle-Duck's Painting Book (1925)

Peter Rabbit's Almanac for 1929 (1928)

The Fairy Caravan (1929)

Sister Anne (illustrated by Katharine Sturges) (1932)

Wag-by-Wall (decorations by J. J. Lankes) (1944)

The Tale of the Faithful Dove (illustrated by Marie Angel) (1955, 1970)

The Sly Old Cat (written 1906; first published 1971)

The Tale of Tuppenny (illustrated by Marie Angel) (1973)
This page is based on the copyrighted Wikipedia Beatrix Potter; it is used under the Creative Commons Attribution-ShareAlike 3.0 Unported License. You may redistribute it, verbatim or modified, providing that you comply with the terms of the CC-BY-SA.
Ninny Nanny Netticoat
Ninny Nanny Netticoat,
In a white petticoat,
With a red nose, --
The longer she stands,
The shorter she grows.