Ben Belitt
Biography of Ben Belitt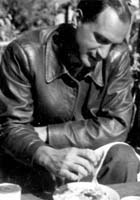 Ben Belitt (May 2, 1911 - August 17, 2003) was an American poet and translator. Besides writing poetry, he also translated several books of poetry by Pablo Neruda and Federico García Lorca from Spanish to English.
Belitt was born in New York City. He was educated at the University of Virginia, receiving a B.A. in 1932 and an M.A. in 1934, and he was a doctoral student at that university from 1934 to 1936. By the early 1940s he had taken up an appointment at Bennington College in Bennington, Vermont, where he remained for the rest of his life. A bachelor, he became a good friend of the dancer (and fellow teacher at Bennington) Bill Bales, of his wife, the actress Jo Van Fleet, and of their son, Michael Bales, and regularly spent the important holidays of the year with this family at Bennington or in New York City.
Belitt was the author of eight books of poems; his complete poems, This Scribe, My Hand, was published in 1998 by Louisiana State University Press. He wrote two books of essays and over thirteen books of translations. He taught for many decades at Bennington College. After retiring from Bennington College, he continued to live in North Bennington and held the position of Professor Emeritus of Language and Literature at the college. He died in Bennington on August 17, 2003, at the age of 92 and was buried in Manchester, Vermont.
His papers are held by the University of Virginia.
Veteran's Hospital
Bringing "only what is needed—essential
toilet articles" in a paper bag,
dressed as for dying, one sees the dying plainly.
These are the homecomings of Agamemnon,
the odysseys to the underside of the web
that weaves and unweaves while the suitors gorge upon plenty
and the languishing sons at home unwish their warring
fathers with strong electric fingers.