Bethany Williams
Bethany Williams
(10-11-1992)
Biography of Bethany Williams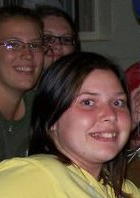 A little about myself I'm 22 years old. I have been writing poetry since I was 16 years old. I have wrote a lot of free style poetry. But, the work that I have been writing here lately are not freestyle. I want to try some new things to actually get my mind to think about what I write. I really do hope that you will enjoy my poetry. Thanks again. Feel free to send me a message but nothing to another site alright.
Inuyasha! ! !
What shall become of your life?
You shall die of your feelings between a human girl and a dead women.
Will never come back to life because you are killed by both the dead and the living.

What will you do to somehow break this curse that bring you back to life?
Your just a half-demon and you cannot stop your own death!
Oh you have to somehow tell both of your lovers that you love them both equaly!
That may save your life or will just end your life!