Bhai Vir Singh
Bhai Vir Singh
(5 December 1872-10 June 1957 / Amritsar, Punjab / India)
Biography of Bhai Vir Singh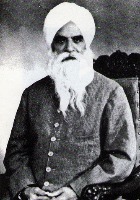 Vir Singh (Punjabi: ਭਾਈ ਵੀਰ ਸਿੰਘ (Gurmukhi)) was a poet, scholar and theologian and a figure in the movement for the revival and renewal of Punjabi literary tradition.

His name is also found as Bhai Vir Singh Ji, and Bhai Veer Singh Jee. Bhai and Ji (or Jee) are honorifics.

Early Life

Born in 1872, in Amritsar, Vir Singh was the eldest of Dr. Charan Singh's three sons. The family traced its ancestry to Diwan Kaura Mal, who rose to the position of vice-governor of Multan, under Nawab Mir Mu'ln ul-Mulk, with the title of Maharaja Bahadur. His grandfather, Kahn Singh (1788–1878), spent his entire youth in monasteries at Haridwar and Amritsar, acquiring training in traditional Sikh learning. At the age of forty, he got married. Adept in Sanskrit and Braj as well as in the oriental systems of medicine (such as Ayurveda, Siddha and Yunani), Kahn Singh passed on his interests to his only son, Dr. Charan Singh. Apart from being a Braj poet, Punjabi prose-writer, musicologist and lexicographer, Dr. Charan Singh took an active interest in the affairs of the Sikh community, then experiencing a new urge for restoration as well as for change.

Education and Marriage

Vir Singh had the benefit of both the traditional indigenous learning as well as of modern English education. He learnt Sikh scripture as well as Persian, Urdu and Sanskrit. He then joined the Church Mission School, Amritsar and took his matriculation examination in 1891 and stood first all over in the district. At school, the conversion of some of the students proved a crucial experience which strengthened his own religious conviction. From the Christian missionaries' emphasis on literary resources, he learnt how efficacious the written word could be as a means of informing and influencing a person's innermost being. Through his English courses, he acquired familiarity with modern literary forms, especially short lyric. While still at school, Vir Singh was married at the age of seventeen to Chatar Kaur, the daughter of Narain Singh of Amritsar.

Literary Career

Unlike the educated young men of his time, Vir Singh was not tempted by prospects of a career in government service. He chose the profession of a writer. A year after his passing the matriculation examination, he set up a lithograph press in collaboration with Wazir Singh, a friend of his father. As his first essays in the literary field, Vir Singh composed some Geography textbooks for schools.

Language Politics

Vir Singh argued that Sikhism was a unique religion which could be nourished and sustained by creating an awakening amongst the Sikhs of the awareness of their distinct theological and cultural identity. He aimed at reorienting the Sikhs' understanding of their faith in such a manner as to help them assimilate the different modernizing influences to their historical memory and cultural heritage.

Works

Vir Singh began taking an active interest in the affairs of the Singh Sabha Movement. To promote its aims and objects, he launched the Khalsa Tract Society in 1894. The tracts produced by the Khalsa Tract Society introduced a new style of literary Punjabi.

The Khalsa Tract Society periodically made available under the title Nirguniara, low-cost publications on Sikh theology, history and philosophy and on social and religious reform. Through this journal, Vir Singh established contact with an ever-expanding circle of readers. He used the Nirguniara as a vehicle for his own self-expression. Some of his major creative works such as Sri Guru Nanak Chamatkar and Sri Guru Kalgidhar Chamatkar, were originally serialized in its columns.

In literature, Vir Singh started as a writer of romances which are considered forerunners of the Punjabi novel. His writings in this genre - Sundari (1898), Bijay Singh (1899), Satwant Kaur (published in two parts, I in 1900 and II in 1927), were aimed at recreating the heroic period (eighteenth century) of Sikh history. Through these novels he made available to his readers, models of courage, fortitude and human dignity.

The novel Subhagji da Sudhar Hathin Baba Naudh Singh, popularly known as Baba Naudh Singh (serialized in Nirguniara from 1907 onwards and published in book form in 1921) shares with the epic Rana Surat Singh (which he had started serializing in 1905), Vir Singh's interest in the theme of a widow's desperate urge for a reunion with her dead husband.

Soon after the publication of Rana Surat Singh in book form in 1919, he turned to shorter poems and Lyrics. These included Dil Tarang (1920), Tarel Tupke (1921), Lahiran de Har (1921), Matak Hulare (1922), Bijlian de Har (1927) and Mere Sayian Jio (1953). Through these works, he paved the way for the emergence of the Punjabi poem.

In November 1899, he started a Punjabi weekly, the Khalsa Samachar. He revised and enlarged Giani Hazara Singh's dictionary, Sri Guru Granth Kosh, originally published in 1898. The revised version was published in 1927. He published critical editions of some of the old Sikh texts such as Sikhan di Bhagat Mala (1912), Prachin Panth Prakash (1914), Puratan Janam Sakhi (1926) and Sakhi Pothi (1950).

An important work was Vir Singh's annotation of Santokh Singh's Sri Gur Pratap Suraj Granth, published from 1927 to 1935 in fourteen volumes.

Awards

He was honored with the Sahitya Academy Award in 1955 and the Padam Bhushan Award in 1956

Death

Vir Singh died in Amristar on June 10, 1957. The portion of his commentary on the Adi Granth - nearly one half of the Holy Book - he had completed was published posthumously in seven large volumes.

Bhai Vir Singh's Works:

Following are some of literary works created by Bhai Vir Singh:

A Study Of Bhai Vir Singh Poetry by Pritam Singh Safeer
Adhunik Punjabi Kavita Ate Bhai Vir Singh by Brahmjagdish Singh
Amar Lekh by Vir Singh
Arshi Chhuh by Vir Singh
Asht Gur Chamatkar (3 vols) by Vir Singh
Asht Gur Chamatkar VOL. 3 by Vir Singh
Asht Gur Cha
This page is based on the copyrighted Wikipedia Bhai Vir Singh; it is used under the Creative Commons Attribution-ShareAlike 3.0 Unported License. You may redistribute it, verbatim or modified, providing that you comply with the terms of the CC-BY-SA.
The Sweet
The sweet,
sweet dew wets all with joy.
Wet with joy are the night
and the moon.
And dewdrops quiver
over the stars on high.
And joy wet blows
the wind on my face.
It is the season of
the cooling dew!
The dew is falling everywhere,
And wet is every rose.
The gentle breath
of heaven blows.