Bhakta Raj Giri
Bhakta Raj Giri
(March 05,2006 / Shivalaya, Sibsu, Samtse, Bhutan)
Biography of Bhakta Raj Giri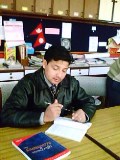 I was born in the foothills of Himalayas in Southern Bhutan. I completed my Junior High School level education from Bhutan. Unfortunately, I could not continue my education there due to my arrest as a school-going boy being taken part in the movement for Human Rights and Democracy in Bhutan (1990) . I was released after 18 months of imprisonment.After I was released, I became a helping hand to my parents who were farmers in a small village called Sibsoo. There too, I could not escape the cruel claws of Royal Bhutan Army (RBA) , and had to flee the country for life. Finally, I landed in a refugee camp in Nepal. Now, my sixteen years of exiled life is running. During my stay in Nepal.I somehow managed to complete my further education from Tribhuvan University, Kathmandu, Nepal.
I am afraid to call myself a poet. However, I find myself more often comfortable to express my sweet/odd experiences of life in the form of poetry.

I would love to get readers' comments, views and suggestions of any sort, which will help me to hone my skill.
Corruption
Law fails
Injustice rules,
Fools rejoice
Wise Suffers.
Morality quits
Money governs,
Light fades
Darkness engulfs.
Own mother kicked out