Bill Clohesy
Bill Clohesy
(3 Feb 1950 / Ballarat Victoria Australia)
Biography of Bill Clohesy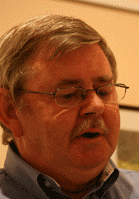 Bill Clohesy – a writer in his own residence.

When I was a kid I used to write, tear it up and throw it away because writing wasn't a man's thing to do. One day an Uncle who I was staying with came to me with what I had torn up – what's this? I found it in the rubbish bin. I admitted it was mine and said I threw it out because I didn't like it. That's when he made me promise never to throw my writing, my ideas, away. Just because you don't like it, doesn't mean somebody else won't like it.

The first poem I ever really wrote was called 'Red' and it didn't make the school annual, but I kept it. I also had a book of verse 'Up until Now' bound when I was twenty. I still have that although it is badly worn.

When my first marriage went kaput, my daughter went with her mother to live in Western Australia and from the age of eleven sent me her life in poems. I kept them all and recently gave them all back, nicely bound in leather, for her thirtieth birthday. You kept them all? Yes honey more than 200 pages complete with spelling mistakes.

I never dreamed for a moment that I could write a book. The first time I managed to get 10,000 words together in some sort of readable order, I was ecstatic. When lightning struck the power lines and blew the living hell out of my computers and my 10,000 words, I cried.

In more recent years I started writing short stories and was delighted when the first one I ever submitted was published in a book called Making the Connection (2002) . Woorilla Literary Magazine has published a few pieces and I have just finished a work 'Conversation with Joy' about the writings of Joy Hester, which will hopefully feature in a new book about the writers of the Dandenongs.

Wild Woman Dreaming was never intended as a book. It started from the true story of an ancestor, Annie, who went for the milk and never returned home. I mixed a bit of the legend of the Wild Woman of Gippsland and the prostitutes strike in Clunes during the gold rush and there it is – a book! I keep telling myself that I will never finish it, just as I never finished the Cammerata, but this time there seems to be a beginning, a middle and an end. I don't care if it is never published. I will have the final draft bound and I will keep it so that my descendants can have that little bit of insight into what I was doing in 2006.

Recently I went away for a week to a Celtic music camp where I spent time with other songwriters. I don't consider myself a songwriter (and I make no claim to be a novelist) but I came away from the week with a heightened sense of 'Yes – I can do it' and it doesn't matter who gets to hear you or read your work. The point is one has put it all down in writing. Song, poem or story – long or short – it doesn't matter. What matters is that you write it!

Bill Clohesy's Works:

I have been Published in -
Woorilla Magazine
The Irish Echo
Rge Irish Times
Signpost Magazine
Making the Connection (2002) Collins
I am currently working on e novels - one exploring the relationship betwwn the Irish and the Chinese on the Victorian goldfields and the other about a commune of intellectual men with a secret agenda within the Carholic Church.
My play - Conversation with Joy (Hester) is almost completed and hpefu; ; y will go into workshop soon.