Bill Galvin
Bill Galvin
(1911 / Boston, MA)
Biography of Bill Galvin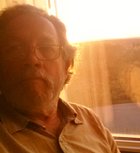 " Reflections on a Moon" -2016- www.lulu.com
" Musings and Reflections" -2017- www.lulu.com; amazon.com
" Ripples" (Haiku, etc.) -2017- www.lulu.com

Bill Galvin's Works:

" Reflections on a Moon" -2016- www.lulu.com
" Musings and Reflections" -2017- www.lulu.com; amazon.com
" Ripples" (Haiku, etc.) -2017- www.lulu.com
Words Cannot Express
A slow turn of her head away from me,
Her eyes gazing at nothing in particular.
She turns back and with a brave face says,
'This may be something really bad.'
'Yes, it may.' I reply.
'It came on so fast. It may get worse real fast.'
'That may be'. I was about to soften my response,
When, tears welling, she whispers haltingly
'I need to talk to you'.