Bireswar Barua
Biography of Bireswar Barua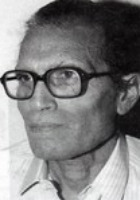 Bireswar Barua is a front-rank modern Assamese poet and the author of more than thirty books of poetry, novels, short stories, literary criticism, social and cultural history, autobiography and translations.

Bireswar Barua worked in the Civil Service. He was a member of the Indian Administrative Service.

He has authored several books including collections of poems and short stories, novels, an autobiography, poetry translations from Spanish, French, English and German, collections of literary essays and criticisms, works on social and cultural history and children's literature. Achin Arao was included in his book Nirbacit Kavita (Selected Poems) which received awards from Bharatiya Bhasa Parishad, Kolkata and the Assam Sahitya Sabha. Barua was awarded the Sahitya Akademi award in 2003 for his book Anek Manuh Anek Thai Aru Nirjanata (Many People, Many Places and Solitude).

Bireswar Barua's Works:

Poetry Collections
Nirjon Nabik, Dauki, Onyo Ek Jonak, Onek Manuh Onek Thai aru Nirjonota, Nirbachito Kobita etc;

Short Story Collections
Prothom Ragini, Nilimar Mon, Bon-Horini, Protichchobi, Mohajibonor Pandulipi etc;

Novels
Onek Putolar Nach, Mon Jetukar Paat, Obondhona, Sondhikhyon;

Others
Ramdhenu Jug aru Poroborti Kaal, Sahityikor Ontorjogot, Sahitya aru Sadhona etc;

Autobiography
Ekanto Nirjon.
This page is based on the copyrighted Wikipedia Bireswar Barua; it is used under the Creative Commons Attribution-ShareAlike 3.0 Unported License. You may redistribute it, verbatim or modified, providing that you comply with the terms of the CC-BY-SA.
We Do Not Know
We do not know where this journey ends
In the lush green meadow,
Or in the deserted quay of some perched river
Where skeletal remains of animals lie mixed
With the remnants of human bodies and burnt charcoal

We do not know whether floods
Will ever come to the rivers of this world
Or not.