Blessing Ekpe
Blessing Ekpe
(7 may / Nigeria)
Biography of Blessing Ekpe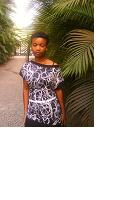 i am an expressive writer........ writing poetry is strictly a thing of the spirit beyond the existential concerns of here and now...i love to play more with feelings, words, nature, and simplicity...........

welcome to my pages...I'm honor to all who read me and encourage me.

.........come travel with me, with the light.See the LIGHT!
Not A Rest!
I am prepare to fight!
I 'ii not take to fight!
Even though you are no more
Your sweet memories is all i have left...

I 'ii say the truth for equity
But there is one thing i regretted.....
Not being able to tell you
How much 'I LOVE YOU'.