Blessing Ekpe
Blessing Ekpe
(7 may / Nigeria)
Biography of Blessing Ekpe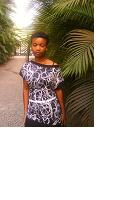 i am an expressive writer........ writing poetry is strictly a thing of the spirit beyond the existential concerns of here and now...i love to play more with feelings, words, nature, and simplicity...........

welcome to my pages...I'm honor to all who read me and encourage me.

.........come travel with me, with the light.See the LIGHT!
Makeup
She makeup her face to conceal,
concealed all the pain and sadness.
As her eyes bare the truth.
The dark glow in her eyes,
speaks to be rescue.