Bob Blackwell
Bob Blackwell
(29/5/1936 / Wales)
Biography of Bob Blackwell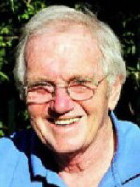 I have always had an urge to write but it was only recently I convinced myself that I could. The poems on this site are my first attempts. I prefer to write in prose to rhyme. I intend to continue as it has given me more pleasure than anything else I have experienced. I strongly believe that we are all citizens of this world and we all deserve a fair chance at its spoils. If we take time to enjoy each moment as it comes we will all notice that we live in a wonderful world. I am interested in both Western and Eastern Philosophy, I am in love with nature and spend as much time as possible outdoors, inhaling the natural air and beauty all around.
! Silence
Like a flower that slowly opens
Through the night, to burst open
With different shades of pink. It
Glows with a blush,
Of morning light. Its soul
No words do speak;
But shows a presence,
A truth, a reality,
Proud in the garden of our world.