Bob Kaufman
Biography of Bob Kaufman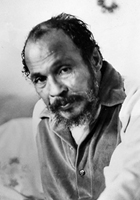 Bob Kaufman (April 18, 1925 – January 12, 1986), born Robert Garnell Kaufman, was an American Beat poet and surrealist inspired by jazz music. In France, where his poetry had a large following, he was known as the "black American Rimbaud."

Biography

Born in New Orleans, Louisiana, Kaufman was one of fourteen children. He claimed to be the son of a German-Jewish father and a Roman Catholic Black mother from Martinique, and that his grandmother practiced voodoo. At age eighteen, Kaufman joined the United States Merchant Marine, which he left in the early 1940s to briefly study literature at New York's The New School. There, he met William S. Burroughs and Allen Ginsberg. In 1944 Bob Kaufman married Ida Berrocal. They had one daughter, Antoinette Victoria Marie (Nagle), born in New York City in 1945 (died 2008). Kaufman moved to San Francisco's North Beach in 1958 and remained there for most of the rest of his life. He married Eileen Singe (1922–2015). in 1958; they had one child, Parker, named for Charlie Parker.

Kaufman, a poet in the oral tradition, usually didn't write down his poems, and much of his published work survives by way of his wife Eileen, who wrote his poems down as he conceived them. Like many beat writers, Kaufman became a Buddhist. In 1959, along with poets Allen Ginsberg, John Kelly, A. D. Winans, and William Margolis, he was one of the founders of Beatitude magazine.

According to the writer Raymond Foye, Kaufman is the person who coined the term "beatnik", and his life was filled with a great deal of suffering: In San Francisco, he was the target of beatings and harassment by the city police, and his years living in New York were filled with poverty, addiction and imprisonment.

In 1959, Kaufman had a small role in a movie called The Flower Thief, which was shot in North Beach by Ron Rice. In 1961, Kaufman was nominated for England's Guinness Poetry Award, but lost to T. S. Eliot. He appeared on The Tonight Show Starring Johnny Carson four times in 1970–1971.

Poetry

His poetry made use of jazz syncopation and meter. The critic Raymond Foye wrote about him, "Adapting the harmonic complexities and spontaneous invention of bebop to poetic euphony and meter, he became the quintessential jazz poet."

Poet Jack Micheline said about Kaufman, "I found his work to be essentially improvisational, and was at its best when accompanied by a jazz musician. His technique resembled that of the surreal school of poets, ranging from a powerful, visionary lyricism of satirical, near dadaistic leanings, to the more prophetic tone that can be found in his political poems."

Kaufman said of his own work, "My head is a bony guitar, strung with tongues, plucked by fingers & nails."

After learning of the assassination of John F. Kennedy, Kaufman took a Buddhist vow of silence that lasted until the end of the Vietnam War in 1973. He broke his silence by reciting his poem "All Those Ships that Never Sailed,"
Believe, Believe
Believe in this. Young apple seeds,
In blue skies, radiating young breast,
Not in blue-suited insects,
Infesting society's garments.

Believe in the swinging sounds of jazz,
Tearing the night into intricate shreds,
Putting it back together again,
In cool logical patterns,