BONGOKOBIDA ZAKARIA
Biography of BONGOKOBIDA ZAKARIA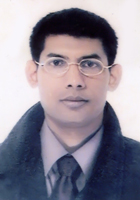 Poet Bongokobida Zakaria Living in Paris from 1992, Origin Bangladeshi.He is the first ancestor of 'Septet poem-song', the first ancestor of Bengali Pantum poem, van guard of Hiku poem-song, translator, organizer and editor. Bongokobida Zakaria was born in Dhaka, Bangladesh. He passed his childhood at village Bancharampur- the native village of his paternal grandfather. For need of professional career his father Gias Uddin Ahmed and mother Sayeda Tun Nesa started to live at Dinajpur.
After obtained H. S. C. from Dinajpur he studied B. B. A. in Cyprus College of Cyprus and European University of Paris. He studied in the French Institute Alliance Franchise. After that, He studied French culture & civilization in the Sorbonne university (IV) of Paris.
When he was 14 years old his poem was published in Daily Uttara a renounced news paper of North Bengal, His first book of verse written in Bengali in 'shammobader khoje' was published by shikha publisher in book fair of 2000 arranged by Bangla Academy. So far, twelve books of verse written by him have been published. He is the president of Bangladesh writer's club (French branch) , President of Association Kotha founder of Kotha Bangla school and founder of Septet International Association.
Now writer is working to establish Septet poem-song in world literature staying in different countries including Bangladesh, French and England.
Poet Bongokobida is very much fond of traveling. So, far he has traveled Geneva. Venice, Verona, Rome, Milan, Cane, Monaco, Barcelona, Madrid, Belgium, Holland, Edinburgh, London, Cairo of Egypt, India and many cultural and traditional places of Europe.

Email: zakripon@yahoo.fr

BONGOKOBIDA ZAKARIA's Works:

Twelve books of verse written by him have been published.
Whistle Of Train
Whistle of Train—

At night I woke up due to train's whistle hearing
Intend grows to go by train at village far reaching

Hiss- hiss the train is onward going
In associate of that mind is also flying

Moon loves me very much-walks about with me