breanna wilson
breanna wilson
(9-26-93 / florida)
Biography of breanna wilson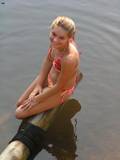 hey yall check out my poems you will love them! ! ! ! leave me a message and let me know your opinions! ! ! love yall!
Life
As time passes by and goes on it's way
It can bring you joy and happiness today.
But even the strongest at night time do bend
As times ravages brings all things to end.

As time passes by so steady, so true,
Make sure you keep watch how it affects you.
Times endless flight can give and can take,
Make sure each day is the best you can make.