Brenda Arroyo
Brenda Arroyo
(6/10/1992 / Modesto CA)
Biography of Brenda Arroyo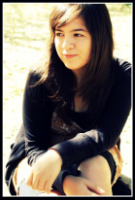 When I write, I clear my mind...
I do and say everything that I was afraid to accept while awake, in my Conscious self, surrounded by the world around me...

I guess my explaination of it doesn't make sense on account of, when I write, I am awake, in my Conscious self, and surrounded by the world around me...
But most of what I know and what I am doesn't make sense either...
That's what's beautiful about it all, I suppose...
I discover things as I go... even if explainations are down to a minimum...

I am a human that's being...
What more can I say?
Alot I guess.
But I'm just one of those people that has to be known through people to people interaction...

I will say this:
I like to smile... It's a lovely feeling.

Myspace me at:
myspace.com/brenda_saidwhat

Brenda Arroyo's Works:

I've had my poetry published numerous times but no books yet...
The farthest I've gone with books was for nanowrimo.
But given time- I'll have books out there.
Just wait and see.
=]
A Seeming Less Heart
I hear my thoughts scurry fast across the horizon...
I see how the sun rises but I can not retrace my mind.
For now, it seems that I have no words (not righteously, at least) .
Not even the least.
...The least to say, at all, how I truly feel...
Because time has overlapped inside my head and beneath my bones.
I can not even retrace my steps.

Where have I gone?