Brendan Constantine
Biography of Brendan Constantine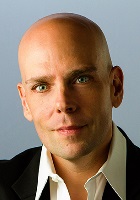 Brendan Constantine was born in Los Angeles, the second child of two working actors, and named after Irish playwright Brendan Behan. An ardent supporter of Southern California's poetry communities and one of its most recognized poets, he has served as a teacher of poetry in local schools and colleges for the last eighteen years. In addition, he brings poetry workshops to hospitals, foster care centers, & shelters for the homeless. He is also very proud of his work with the Alzheimer's Poetry Project.

His first collection, Letters To Guns, was released in February 2009 from Red Hen Press to wide acclaim. It is now taught extensively in schools throughout the Southland. His work has appeared in numerous journals, most notably Ploughshares, FIELD, Rattle, ZYZZYVA, Ninth Letter, The Pinch, ArtLife and LA Times Bestseller The Underground Guide to Los Angeles. His most recent collections are Birthday Girl With Possum (2011 Write Bloody Publishing) and Calamity Joe (2012 red Hen Press).

In spring of 2012, Brendan toured California on a grant from the James Irvine Foundation, bringing his poetry workshops to schools, libraries, correctional facilities, & community centers. "I know every student doesn't want to be a professional poet. But if poetry is a kind of 'language within a language' (Paul Valery), then I believe the skills of poetry--the arts of simile, metaphor, hyperbole, personification, meter, etc. – are useful and practical, a means of doubling our available vocabulary. Anyone with even a little poetry in them is better equipped to relate their world to someone else."

In addition to his post as poet in residence at the Windward School, Brendan regularly volunteers with organizations like the Art of Elysium. He is also currently working with the Craft & Folk Art Museum of Los Angeles on a project that invites established and emerging authors to bear upon changing exhibits.

He holds an MFA from Vermont College of Fine Arts and lives in Hollywood at Bela Lugosi's last address.
Aubade
My love,
you have the right to remain
.......silent. Anything you say
can and will be recorded
.......in my pillow. If you desire,
you may request a transcript
.......of every crushed feather.
You have that right, too.