brianda lee
brianda lee
(1-02-90-.... / in a book..)
Biography of brianda lee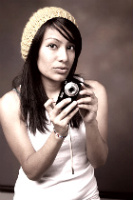 im Brianda.
i live in beautiful California.
im 18.
im going to school to major in English.
i love music to the bottom of the barrel.
I will one day write a book about a character completely different from me.
It will be interesting.
life is full of surprises.
so do what you feel.

brianda lee's Works:

i dont have any...



yet...
No One..
Open your mind
The essence of learning.
Move your mouth,
The essence of teaching,

Live and let die.
Smile and do not ask.

Sit and learn.