Bryan Stanley Johnson
Biography of Bryan Stanley Johnson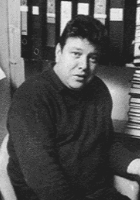 Bryan Stanley Johnson (5 February 1933 – 13 November 1973) was an English experimental novelist, poet, literary critic, producer of television programmes and filmmaker.
Born into a working class family, Johnson was evacuated from London during World War II and left school at sixteen to work variously as an accounting clerk, bank junior and clerk at Standard Oil Company. However, he taught himself Latin in the evenings, attended a year's pre-university course at Birkbeck College and, with this preparation, managed to pass the university entrance exam for King's College London.
For A Girl In A Book
Kim, composite of all my loves,
less real than most, more real than all;
of my making, all the good and
some of the bad, yet of yourself;
sole, unique, strong, alone,
whole, independent, one: yet mine
in that you cannot be unfaithful.