Byron Headrick
Byron Headrick
(April 16 1972 / Scotsboro, Alabama)
Biography of Byron Headrick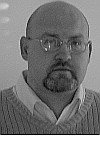 Born the son of a farmer and school teacher; raised to love hard work and the diversity of life; grew to love dirty Martinies, fine cigars and dice; Tried to live out the white picket fence Americian dream; Gave up to live out a life crossed between Hemingway Novels, Jimmy Buffet songs and e.e. cumming's poems; Fathered two of the most bueatiful childern in the world; Now spends his time raising his son and daughter and enjoying the breif adventures that life brings documenting his soul with poetry.
Like Messiah
Like Messiah, a holder
Of truth and sight
Behind broken windows
Of souls the eyes she has
Conveyed more than her
Tongue ever has tired.
Another person seeking
Happiness expecting to find
It disguised.