C. Dale Young
Biography of C. Dale Young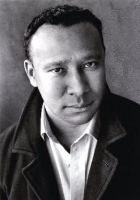 C. Dale Young (born April 18, 1969) is an American poet and writer, physician, editor and educator of Asian and Latino descent
Young writes and publishes poetry and short stories, practices medicine full-time, edits poetry for New England Review, and teaches in the Warren Wilson College MFA Program for Writers. His poems have appeared in many magazines and journals, including The Atlantic Monthly, The New Republic, The Paris Review, POETRY, Yale Review, and elsewhere. His work has also been included in anthologies, including The Best American Poetry.
Young grew up in south Florida, and his early work is inspired by the tropical landscape of his home state. He holds degrees from Boston College (BS 1991) and the University of Florida (MFA 1993 and MD 1997). He completed his medical internship at the Riverside Regional Medical Center and his residency in radiation oncology at the University of California, San Francisco.
He lives in San Francisco, California with his spouse, biologist and composer Jacob Bertrand.
The Call
in memoriam Cecil Young

I am addicted to words, constantly ferret them away
in anticipation. You cannot accuse me of not being prepared.
I am ready for anything. I can create an image faster than

just about anyone. And so, the crows blurring the tree line;
the sky's light dimming and shifting; the Pacific cold and
impatient as ever: this is just the way I feel. Nothing more.