Cale Young Rice
Biography of Cale Young Rice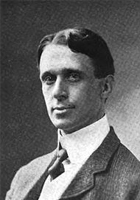 Cale Young Rice (December 11, 1872 – January 24, 1943) was an American poet and dramatist.

He was born in Dixon, Kentucky to Laban Marchbanks Rice, a Confederate veteran and tobacco merchant, and his wife Martha Lacy. He was a younger brother of Laban Lacy Rice, a noted educator. Cale Rice grew up in Evansville, Indiana and Louisville, Kentucky. He was educated at Cumberland University and at Harvard (A.B., 1895; A.M., 1896).

He was married to the popular author Alice Hegan Rice; they worked together on several books. The marriage was childless, and Cale committed suicide at his home in Louisville a year after her death due to his sorrow at losing her.

Cale Rice's poems were collected and published in a single volume by his brother, Laban Lacy Rice.

His birthplace in Dixon is designated by Kentucky State Historical Marker 1508.
The Mystic
There is a quest that calls me,
In nights when I am lone,
The need to ride where the ways divide
The Known from the Unknown.
I mount what thought is near me
And soon I reach the place,
The tenuous rim where the Seen grows dim
And the Sightless hides its face.