Captain Cur
Captain Cur
(Born Late 1600's Date of Death Unknown / England)
Biography of Captain Cur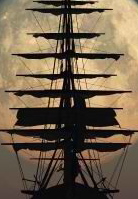 Captain Cur
Captain of the Malevolent.
Profession, Pirate.

Does poetry more fulfill your mind?

If in thy youth were made to find
that poetry more fulfilled your mind
than machinations or the rest
consider your soul doubly blest.
But speak not matters ill of verse
recite each line, rehearse, rehearse!
Do words flow smooth like in a dream
or struggle hard to swim upstream?
If sometimes poems do seem to drown
when reading tumble to the ground
just rhyme these two words, light and bright,
and everything will be alright.
The finer themes that lift the scene
the ocean blue, the forest green
but if sensitivities lack
it's okay to compose in black.
Lets mix a cauldron full of verse
add love, a prayer, a little curse
then strip the finished product bare
with plays of Shakespeare to compare.
The sweeping rhymes that end the line
the anapests that drill to time
if these techniques you do possess
consider your soul triple blessed!
Then edit, check and check some more
for all your heart you did outpour.

Welcome to the Captain's page!

Poetry translated from his encoded diary. The spirit of Captain Cur has commissioned this translator, with the help of the Captain's impish Muse, to give good account of his writings, loves and adventures. The problem is the Muse, who calls herself, 'Baharia Msichana' which means, sailor girl, but she prefers 'Pirate Girl' insists I write her love poems, which she will not allow me to publish, or she will not help me decipher his diary. Captain Cur inhabited this sphere sometime between the mid to late 1600's and possibly the early 1700's. His diary was heavily damaged after the wreck of the Malevolent, his exact date of death remains unknown. Allusions to his alter ego, "the beast" is heavily layered throughout his prose. His tales of adventure appear to encompass both the real and spectral world. The Captain's spirit continues to pen in his diary and has much to say about our modern age. It's complicated, but fun. So I hope you enjoy the voyage!

         
Demon Seas, Part 1
The vomit in my stomach
rises choking my neck.
My sails are in tatters.
My ship is a wreck.

The waves rise against me,
the winds squashing my flesh.
The weight of the water is pounding,
crushing my chest.