Caroline Bergvall
Biography of Caroline Bergvall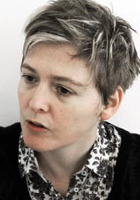 Caroline Bergvall (born 1962) is a poet of French-Norwegian nationalities who has lived in England since 1989.

Bergvall has developed audio texts and collaborative performances with sound artists in Europe and North America; her critical work is largely concerned with emerging forms of writing, plurilingual poetry, and mixed media writing practices, also Performance Writing.

She wrote FIG (Goan Atom 2), poetic and performance pieces (Salt Books, 2005). Installations with Ciaran Maher include Lidl Suga for TEXT Festival (2005) and Say: "Parsley" at Liverpool Biennial (2004).
Caroline Bergvall Poems
About Foam
A paradoxical pleasure is both solid nor liquid that can be wet, dry, hard, soft, expansive, changeable. An intricate and hollow polymer network is energy transport at its finest, a compound structure of gas nor bubbles nor fans. Once hardened it can be tough to break.
All poems of Caroline Bergvall »
Share your comments »
About Foam
A paradoxical pleasure is both solid nor liquid that can be wet, dry, hard, soft, expansive, changeable. An intricate and hollow polymer network is energy transport at its finest, a compound structure of gas nor bubbles nor fans. Once hardened it can be tough to break. What binds. A gel for instance can envelop like an elastic skin. It can be prodd