Cate Marvin
Biography of Cate Marvin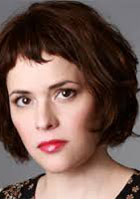 Cate Marvin is an American poet.
She graduated rom Marlboro College, University of Houston, University of Iowa, and University of Cincinnati with a Ph.D. She teaches at the College of Staten Island, City University of New York and in spring 2010 will be teaching at Columbia University.
Her work has appeared in Ploughshares, Fence, The New England Review, Poetry, The Kenyon Review, The Paris Review, The Cincinnati Review, Slate, Verse, Boston Review, Ninth Letter, and TriQuarterly.
A Brief Attachment
I regard your affections, find your teeth have
left me a bruise necklace. Those lipstick
marks leech a trail, ear to ear, facsimile your
smile. Your 40 ounces of malt liquor, your
shrink hate, your eyes dialing 911. The hearts
you draw with ballpoint on my cigarette packs
when I've left the room, penned in your girl's

cursive, look demented, misshapen approximations