Cathy Jackson
Cathy Jackson
(3-27-1958 / Oakland, California)
Biography of Cathy Jackson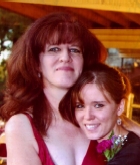 Third of six children born to Hoyt and Anna Bonds. Graduated in 1976 from Lawton Eisenhower High School. Attended college in bits and pieces from 1977 to 1998, including Cameron University, Oklahoma University, and Mid-America Bible College. Work in inventory management in Oklahoma City. Common-law married from 1984-2001 and have four children. 3 years ago I met the man of my destiny, and married him October 16,2004. I love to write short stories and erotica - Life is good.

Cathy Jackson's Works:

I am unpublished, for now - someday I hope to change that.
Memories
It's so quiet today, save a few peripheral noises
From the world outside.
Voices down the hall, indistinguishable words,
Clicks on keyboards, paper rustling,
The sound of business.

I stare at the objects on my desk
A picture of friends,
A postcard, a withered balloon, a map,