Cecilia Skopec
Cecilia Skopec
(5/27/93 / Chicago)
Biography of Cecilia Skopec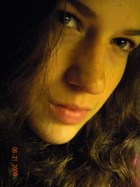 I live in Wisconsin and I love to read poems. My favorites are the really deep ones that I can connect to. I also enjoy writing poems, though I don't get much time to write them. But when I do have that time, I like to relax and take my time to find just the right words.
Luna's Cycle
In her cycle, the moon starts in the dark.
It's as if the clouds take over the night.
The wolves have nothing to howl to or bark.
With the naked eye, she is out of sight.
The one night you see her beautiful half.
All light shows mid as strong, across the plat.
Like an artist made a terrible gaff.
Luna still has the looks of being flat.
You turn to see her exquisite in round.