Cecilia Skopec
Cecilia Skopec
(5/27/93 / Chicago)
Biography of Cecilia Skopec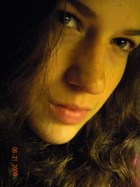 I live in Wisconsin and I love to read poems. My favorites are the really deep ones that I can connect to. I also enjoy writing poems, though I don't get much time to write them. But when I do have that time, I like to relax and take my time to find just the right words.
Cumulonimbus
The smell of rain flows into the valley like mist.
Clouds hover above threatening to reveal their secret.
Familiar to death, all forest turn dark and silent.
Erie whispers show that the wind has arrived.
Whipping wildflowers with it's violent push.
Commenting that there is more to come.
A sudden flash fills the sky,
lightning demands attentions as it reaches by.
Rumble. Rumble.